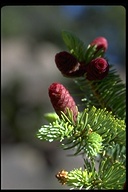 Gerald and Buff Corsi © 2000 California Academy of Sciences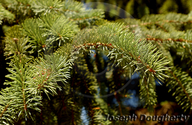 © 2003 Joseph Dougherty/ecology.org
more photos on CalPhotos
Picea engelmannii Engelm.

Picea engelmannii

, a gymnosperm, is a

tree

that is

native

to California and is also found elsewhere in North America and beyond.

It is included in the CNPS Inventory of Rare and Endangered Plants on list 2.2 (rare, threatened, or endangered in CA; common elsewhere). 7th Edition / 8th Edition

Communities:

Red Fir Forest, wetland-riparian

Wetlands:

Equally likely to occur in wetlands or non wetlands [U.S. Fish & Wildlife Service.]

Family:

PINACEAE

Related:

See a list of other species in the genus Picea found in California.
Plant
Characteristics
+ Associated
Organisms

Bloom Period


Add an
Observation


Observation Hotline
including observations with photos